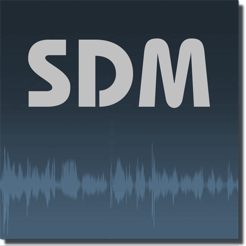 Space Designer Manager for Logic Pro
4+
Description
Space Designer Manager for Logic Pro extends the usability of Logic's popular Space Designer impulse reverb and is it's perfect companion. The ever and ever growing number of 3rd party and user impulse responses shows Space Designer's drawback: Before you can use a impulse response file you must load it into a setting and save it. If you have hundreds or thousands of files this will be an exhausting and almost impossible task, because you have do it one by one. Space Designer Manager keeps you being creative because it does the job automatically for you in seconds. Furthermore it can find and relink impulse responses back to the setting files they belong to, if Logic can not find the files at the position that was saved in the setting.

Generator batch generates the setting files Space Designer needs to load impulse responses. Single ir-files, folders and also folders inside of folders will be processed. Generator works with AIF, WAV, SD2 and SDIR files in mono, stereo, truestereo, quadro, b-format and mono-omni surround. For files with more than two channels impulse response files in Logic's own SDIR format will be generated.

Modifier can batch modify important Space Designer setting parameters which are wet level, dry level, volume and latency compensation. The parameters can be set in the preferences menu. You can decide if you want to batch modify any of these parameters by checking the modifier checkbox below each parameter.

Relinker relinks setting files with the impulse responses they were originally pointing to. You can choose a setting folder and the according impulse response folder.
Relinker will inform you if files could not be found or if there are more files with the same name.

Player is an audiofileplayer plus additional infoview made for convenient prelistening of impulse responses.


Space Designer Manager Minimum System Requirements: Apple Intel based Mac 64bit computer running MacOS 10.7, 1Gb RAM, Apple Logic 7.
Fixed a bug that prevented the app from starting.
Ratings and Reviews
A great timesaver, once you figure it out
This seems like a well-written and efficient application that fills a much-needed gap in using Space Designer with downloaded impulse response files. The only dings I will make on it is that the UI design is not exactly intuitive, and the help does little to clarify things, nor to explan how to integrate the results with Logic Pro X and Space Designer. But through some experimentation I think I finally figured it out, and it still took a lot less time to figure out than it would have to do all of the IR files I had by hand, especially since most of the online help for doing this manually stems from before the most recent version of Logic either hid or entirely omitted the Impulse Response Utility.
An Essential Tool for Auditioning & Managing IR Files
Space Designer Manager is an essential tool for anyone who wants to manage, process and/or audition IR files and libraries. You can "point" Space Designer Manager at a folder of IR's and it will generate presets that you can easily audition using Logic's Space Designer plug-in. This will save you countless hours and aggravation compared to doing the same thing manually. It's well worth the price and from my point of view it paid for itself the first time I used it. On the downside, the UI functionality is not immediately obvious but it's simple and easy once you get it figured out. I'd rate 5 stars if the UI and help features were improved.
Extremely Helpful for Managing Large IR Libraries
If you've found yourself pulling your hair out going through third party IR libraries one by one via Space Designer's clunky IR browser, this is the answer.

This is a huge time saver when it's time to get to work and find the right reverb in a project. No more one-by-one file browsing, and being kicked back to the top of your IR folder structure. This actually makes me want to seek out more third party IRs, knowing they'll be easy to integrate into projects (as presets instead of audio files).

The price might seem a bit high if you're a hobbyist, but as a fulltime professional composer and producer, it's worth every cent in terms of increasing efficiency when the clock's running, and opening up ease of browsing presets for the right reverb sound.
Information
Seller

Karsten Dreyer

Size

649.8 KB

Category

Compatibility

OS X 10.7 or later, 64-bit processor

Age Rating

Rated 4+

Copyright

© 2011, 3R Audio

Price

$29.99
Supports
Family Sharing

With Family Sharing set up, up to six family members can use this app.