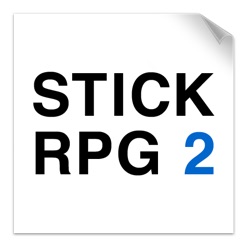 Stick RPG 2 Director's Cut
12+
Description
Thrust into an unfamiliar and bizarre city, find your place amongst the strange citizens by earning money, buying property and building up your stats. Collect the mysterious trans-dimensional artifacts to solve the mystery of Paper Thin City!

You've waited 7 years for this game, it's finally time to enter the 2nd Dimension - again!

• Climb the ranks in dozens of professions including Doctor, Hitman, Drug Dealer, or Male Escort!
• Enjoy a richly populated world with hundreds of NPCs and quests.
• Collect and do battle using over 30 weapons.
• Cruise the dating scene and land yourself a wife!
• Buy a condo, mansion, or even a castle to kick back in and call your own!
• Fixed some memory & performance-related bugs (transitioning between areas of the city should be faster)
• Fixed some graphical issues in the Northeast part of the city
Ratings and Reviews
Buggy and Small, but still awesome.
Nobody likes the fact that the screen is pretty small, but I'm used to it because it's as big as the screen you get in the browser edition. I just hope they make it fullscreen, though.
I've also been experiencing some bugs, like the very left portal at the very end just gives me a neverending loading screen. Once, when I entered the "Benjamin Club," I wasn't able to play any of the games, but it fixed itself when I logged off and logged back in. Still, what if it happens again?
One last comment I have to make is the fact that for $4 (and originally $20? WHAT?) you only get an extra map with SOME features. Okay, there are some benifits, but it isn't even worth $4, let alone $20. Really, I think they should include that in the free version and give the director's cut stuff that's worth $4.
Otherwise, it's a great game, just try to kind of ignore my earlier comments and learn how to play, it's addicting and really fun! Full screen will give it that fifth star!
I won't tell you my name
,
Three problems so far
Well, I really do like this game, but there are three prolems I have found so far. One is the full screen problem everyone is talking about, also, if you put it into full screen, then make it not in full screen, you can't put it in full screen again unless you quit and reopen the application. Also, if you go in the lobby of the club, my character keeps having an invisibility cloak or something, cause I can't see him. I know three glitches is a good amount, especially since I've only played it for about an hour, but it is still worth buying.
Very fun and addicting
However, PLEASE add a full screen mode, I beg you. Also it sometimes slows down or freezes for a moment, and my Macbook is more than capable of handeling this flash game. I would go as far as to say this isn't worth the purchase until it gets a full screen mode for some people. It's playable, but the window is small. Glad this is on here though, it's very addicting.
Information
Seller

XGen Studios Inc.

Size

30.1 MB

Category

Compatibility

OS X 10.6.6 or later

Age Rating

Rated 12+ for the following:

Infrequent/Mild Alcohol, Tobacco, or Drug Use or References

Infrequent/Mild Cartoon or Fantasy Violence

Infrequent/Mild Profanity or Crude Humor

Infrequent/Mild Mature/Suggestive Themes

Infrequent/Mild Simulated Gambling

Copyright

Copyright © 2011 XGen Studios Inc.

Price

$4.99
Supports
Family Sharing

With Family Sharing set up, up to six family members can use this app.