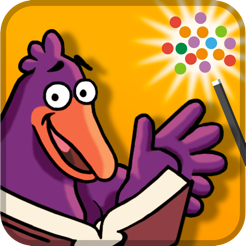 Description
Orignally published as Living Books by Broderbund Software

• Recipient of a 2013 PARENTS' CHOICE Approved Award
• Sample the interactive stories originally published by Living Books
• Arthur, Berenstain Bears, Harry and the Haunted House, Little Monster, Tortoise and the Hare, and Ruff are all here

Review:
"For all those who take full advantage of the taste-before-you-buy events at farmer's markets or grocery stores, Wanderful Storybooks Sampler offers a similar experience.

This free app gives readers a fully interactive 'first page' sample from each of its seven-book collection: Little Monster At School, Arthur's Teacher Trouble, Arthur's Birthday, Berenstain Bears Get In A Fight, Harry and the Haunted House, Tortoise and the Hare and Ruff's Bone. Additionally, the sampler highlights what to expect in the parental tips and teacher resources sections of each Wanderful title designed to help, guide, and delight new and emerging readers."

- Parents' Choice ©2013 Parents' Choice

Have you ever wished you could play inside a story and really interact with all the characters and words? Now you can! The Storybook Sampler presents pages from the available Wanderful interactive storybooks. These are fully interactive reading experiences with fully animated content loved by children, parents and teachers alike.

Read and play inside each of the animated story pages, where everything comes to life for hours of delightful story fun. The stories include Arthur's Birthday, The Tortoise and the Hare, the Berenstain Bears Get in a Fight, harry and the Haunted House and Little Monster at School.

KEY FEATURES:
• Each page is fully animated and interactive and virtually every item comes to life when tapped
• The entire interactive first page of each story is included
• All words are recorded twice and are fully "active" for extended word play and language learning – listen to them in story sequence or tap on them to make your own phrases
• A hidden surprise is on each page – see if you can find it. It's a different surprise for every story
• Multiple settings further customize the App for your child's reading experience
• Parental tips help you get the most out of this Wanderful Interactive Storybook Sampler
• The Sampler features easy options to purchase the complete storybooks or learn more about them
• Teacher resources include a 36 page overview of Wanderful interactive storybooks Classroom Activities and a free preview of the Tortoise and the Hare Classroom Activities guide

Wanderful's goal is to help children discover a lasting love of language through story exploration. We hope the Storybook Sampler provides your family, children and students with hours of delightful reading and story play.

Privacy Disclosure
Wanderful creates engaging interactive storybooks for children that are educational, fun, and above all safe and appropriate. This App:
• does not collect any information
• does not contain ads
• does not contain in-app purchases, but does allow you to purchase the storybooks
• includes active links to websites or social networks, but ONLY from the PARENTS and TEACHERS pages, not from the storybook pages
Bug fix for a freeze when launching on Retina displays.
captivating
Two weeks ago I took my 5-year-old grandson to Washington DC to visit my son,my grandson's uncle. Having the Wanderful apps along for the plane ride was a life saver. He spent literally hours immersed in them. The Tortoise and the Hare seems to be his favorite. Thanks for making these great books available!
Love it so much!!!
I grew up playing this as a kid. I lost the disc and thought I would never play it again. Then I saw tutorials online of these games! And then I found this! Thank You!!!
Information
Seller

Wanderful, Inc.

Size

53.3 MB

Category

Compatibility

OS X 10.6 or later

Age Rating

4+

Copyright

© 2013 Wanderful, Inc.

Price

Free
Supports
Family Sharing

With Family Sharing set up, up to six family members can use this app.