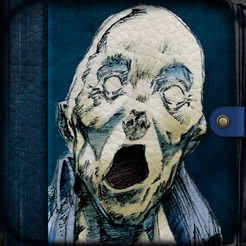 Description
EXCLUSIVE TO APPLE DEVICES. Compatible with iPhone, iPod and iPad. Stricken - Chapter One is an exciting, gripping, immersive soundtrack-driven Graphic Novel unlike any other.

Reviews Online:
"Beauuuutiful hand-crafted illustrations, detailed and polished enough so nothing interrupts perceptions. Animation, original soundtrack and sounds – everything executed the way it should. And finally, a rich interactive visual and acoustic experience – something very close to be called unique."

Catherine, CompoundConcept Team

********************************************************
Love Stricken?
Please write a review!
And register your interest in Chapter 2!
Want to know more about Apps from Protein?
Visit www.protein-one.com
for the latest developments.
********************************************************

Developed exclusively for iOS devices. This is the first of three Chapters set in the fictional world of MossTown - an exciting and heart-pounding read. ** Note - for the full experience, ** please wear headphones ** to immerse yourself in this unique world.

Chapter 2 and 3 are in development.

- Beautifully crafted illustrations!
- Unique composed film Soundtrack and Sound FX!
- More than 140 Illustrated cells!
- Over 40 pages of story and soundtrack!

For fans of Graphic Novels/Films/Games such as Sin City, se7en and Max Payne - this Graphic Novel is the perfect experience.
Fixes a problem where the incorrect music plays for certain scenes.
Ratings and Reviews
Enjoyed It!!!!
Heard the ad on SIR. Chapter was a little short, but I really like what you are doing. The music and sound effects add a lot and I will be checking out Chapter 2!!!!
Completely Honest
The comic was just ok. The adding music and sound effects was a nice touch it got me more into the jumping around very sparatic non character driven story.

Story- Was just ok. It didn't spend much time on getting into how many times the killer had struck or who even this main character detective was.... just what was going on and what was about to happen to him. Then it jumps 3 years in the future and doesnt explain who the girl is hes trying to save who the guy is he is fighting or why he was even there in the first place. Then the first time you get to see the killer (the first interesting part of the comic) the comic was over. Waaaaaaaaay to short for a first issue. Gotta get your readers hooked and actually want to spend 3.99 on another issue......

Art- Ok im not going to say it was the worst i have ever seen however the drawing was pretty horrible. The main character looked different in almost all the drawings making it kind of hard to know if that was him or another detective. Overall the drawing wasnt very dynamic and left me wanting more from a comic. The coloring wasnt bad. I liked the over tones and layers of texture they put into it to give it the feel they did for the detective story.

Price- There is no way i would pay 3.99 for this agian if i could go back in time. Its a comic a very short one at that so ill pay 99 cents for that.. then they added a nice score and some sound effects ill give ya 99 cents for that. So its a 1.99 app at best.

So over all I think you guys did some cool stuff but it needs a lot of work to be worthly of the price tag.
Information
Seller

Protein One Pty Ltd

Size

223.1 MB

Category

Compatibility

Requires iOS 3.2 or later. Compatible with iPhone, iPad, and iPod touch.

Age Rating

Rated 12+ for the following:

Infrequent/Mild Alcohol, Tobacco, or Drug Use or References

Infrequent/Mild Profanity or Crude Humor

Infrequent/Mild Mature/Suggestive Themes

Infrequent/Mild Sexual Content and Nudity

Frequent/Intense Cartoon or Fantasy Violence

Frequent/Intense Horror/Fear Themes

Copyright

© Galvin Scott Davis

Price

Free
Supports
Family Sharing

With Family Sharing set up, up to six family members can use this app.