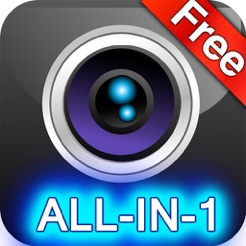 Super Camera Free: ALL-IN-1
4+
Description
★ "Nude Battery Free" is OUT!!
★ Just search "Nude" to find it !!

How many camera apps do you have on your iPhone? One? Tow? Three? Even more?
Now only ONE will be enough. Super Camera will cover everything you need and more than all your cameras have done.

FEATURES

* 25 Photo Filters (Free Version: 10 Filters)
* 15 Photo Frames (Free Version: 10 Frames)
* Up to 4x Digital Zoom
* 3 Burst Shots
* Self-Timer: 5~20 seconds delay for self-taking pictures
* Anti-Shake: stable shooting with the gravity sensor
* Anti-Shake Gauge (new!)
* Tap to Focus
* Full Screen Shutter
* Full Screen Viewfinder
* Guide Lines: 3x3 grid for better shots
* Flash: Control bar up to +- 3 EV (Exposure Value)
* Battery State
* 4 Resolution Options: S 480x320, M 900x600, L 1500x1000, RAW
* Ccompatible with iPhone 3G/3GS, iPod Touch
(Since you don't have camera function on your device you can only open your saved photos rather than take a photo)

AMAZING 25 FILTERS (Free Version: 10 Filters)


* Natural Gray: adapted for human eyes' color sensitivity.
* Sketch
* Emboss
* Rain Drops: Unique filter only for Super Camera.
* Oil Painting
* Frosted Glass
* Natural Sepia
* Lomo(Vignetting): reduces light at the edge.
* HDR: allows greater dynamic range of illuminance.
* Bloom: makes glow effect on bright objects.
* Sharpen: enhances detail and makes images more sharp
* Blur
* Soft Light


SPECIAL FILTERS for SPECIAL USES

* For Night Uses: HDR Night, Bloom Night, Sharpen Night
* For Portrait: Lomo Sepia, Lomo, Soft Light
* For Landscape: HDR, Contrast+, Color+, Oil Painting
* For More Pleasure: Sketch, Rain Drops, Emboss, Frosted Glass


VALUABLE 15 FRAMES (Free Version: 10 Frames)

* White Boarder
* Black Boarder
* Lined Glass: Semi-transparent glass border with white line.
* Rounded
* Scrub: brushes the edge with rough black.
* Letters
* Postcard
* PaperFrame
* Film
* Soft
* Tear
* WhiteOval
* BlackOval
* Iced
* TapeTop
* TapeCorner

_______________

Like US facebook.com/BlueOnionSoft
Follow US @blueonionsoft
Watch US youtube.com/user/BlueOnionSoft
Contact US support@blueonionsoft.com
Ratings and Reviews
Pretty awesome app
I've had this app (the free version) in some form for as long as I've had an iPhone, I found it plenty easy to use but I also have a background in photography, which really that's the type of people this app is meant for, of course if you don't have any background in photography certain aspects of this app will not make much sense to you and will seem over complicated (if that's the case then try a different app, this one is probably not a good one for you)

4 stars only bc I've had some minor issues with the anti shake feature and an occasional crash but other than that this app is fantastic :-)
Kkpreston
I think this is a very good app for free. It takes great pictures & if someone has to wait 30 seconds to take a pic then I think their device is low on memory. Good job!
Some useful features hidden in a terrible UI
There appear to be some useful features in here, but it crashes quite often and the UI is really hard to understand. Not sure why there is a top bar and bottom bar that have overlapping functionality. Also the top bar mostly obscures the flash and front camera buttons, so it's really hard to click those.

Hilariously, I hit the button to buy the full version on the nag screen that pops up every once in a while, and it crashed without opening the app store.
Information
Seller

Blueonionsoft, Corp.

Size

3.6 MB

Category

Compatibility

Requires iOS 4.3 or later. Compatible with iPhone, iPad, and iPod touch.

Languages

English, Korean

Age Rating

Rated 4+

Copyright

© 2010 Blue Onion Soft

Price

Free
Supports
Family Sharing

With Family Sharing set up, up to six family members can use this app.