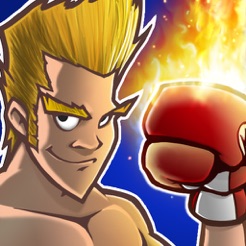 Super KO Boxing 2 for iPad
12+
Free
Offers In-App Purchases
Description
FREE TODAY ONLY!!!

The most outrageous arcade-style boxing game for the iPhone and iPod touch is now available for your iPad!

Get in the ring as the famous K.O. Kid and go toe-to-toe with a motley crew of 15 face-breaking opponents who will stop at nothing to put you on the mat.

In your quest to become champion of the world, you'll figure out your opponents' tells, avoid their signature moves and retaliate with powerful hooks, super-punch combos and lightning KO's.

Blinded by 15 Cent's gilded grill? Punch-drunk from Shogun's lights-out assault? Super K.O. Boxing 2 now comes with 3 FREE Roid Rage power-ups that transform the K.O. Kid into an unstoppable boxing monster!

With 3 different game modes and over 65 unique achievements, Super K.O. Boxing offers hours and hours of exciting and entertaining game play.

Are you ready for an old fashioned beat down?

The legendary Super K.O. Boxing 2 game, optimized for the iPad!

NEW! Customize the position of the touch controls on your screen

ROID RAGE POWER UPS!
- 3 FREE Roid Rage power-ups with the purchase of the game (additional Roid Rages can be purchased in-game)

3 GAME MODES

- CIRCUIT MODE: 18 bouts across 3 circuits... going the distance will win you the Title Belt!

- CHALLENGE MODE: 17 unique challenges to test your Super K.O. skills.

- ENDURANCE: How many fights against increasingly tough opponents can you win before getting knocked down?

OPPONENTS
- Square off against 15 over-the-top opponents, each with a ridiculous personality and devastating signature moves

ACHIEVEMENTS
- Earn over 65 achievements to unlock hidden extras like character sketches and early game concept images

PLEASE NOTE:
- This game is free to play, but you can choose to pay real money for some extra items, which will charge your iTunes account. You can disable in-app purchasing by adjusting your device settings.
- This game is not intended for children.
- Please buy carefully.
- Advertising appears in this game.
- This game may permit users to interact with one another (e.g., chat rooms, player to player chat, messaging) depending on the availability of these features. Linking to social networking sites are not intended for persons in violation of the applicable rules of such social networking sites.
- A network connection is required to play.
- For information about how Glu collects and uses your data, please read our privacy policy at: www.Glu.com/privacy
- If you have a problem with this game, please use the game's "Help" feature.

FOLLOW US at
twitter.com/glumobile
facebook.com/glumobile
Bug fixes and other improvements to game performance.
The Game That Wanted To Be PunchOut
Super Ko Boxing 2 is many things but it certainly isn't bad. Whenever I think of this game it's with mixed emotions, but enough of that poetic stuff lets talk about the game. Overall it's very well designed for a mobile game, I found myself going to it whenever I needed some dumb fun. It suffers from micro transactions as all mobile games are destined to be, but it isn't necessary to purchase them in order to do well. There is a very steep difficulty curve between fights which can be frustrating. However the payoff is great when you actually win. On top of that it's free! And I mean actually free, not free In the way you have to spend money to make any real progress *cough* every EA game *cough*
Not the best game ever...
The reason is that at one point I can't even lay a punch on chief but the next this I know is that I could lay a punch on him but I didn't defeat him though and I didn't use roids to lay a punch all you have to do when he raises his hand is go right then left and keep doing this and in between do taunt because you will need a power punch you can knock him out but I'm not sure about defeating him though... I hoped this helped if you need to know more eatheir look up a walkthrough or some kind of helping guide or try to find another one of my comments that helps... well that is if a make anymore comment help guide.
Amazing Game, Completely Beatable for Free.
I have completed the game ONCE, went through all the circuits, challenges, and gained all the achievements (including Exhibition mode). I did this ALMOST by myself, why almost? Because beating Executioner the first time and the Challenge mode version was frustrating enough, so I just used ONE FREE STEROID (that's why it's called "'Roid Rage") they give you just to finish the game. So yeah, to everyone who reads this review, YOU CAN COMPLETELY FINISH THIS GAME WITHOUT PAYING ANYMORE MONEY (I got this for free) AND IT'S WORTH IT.
Information
Seller

Glu Games Inc

Size

103.9 MB

Category

Compatibility

Requires iOS 3.2 or later. Compatible with iPad.

Age Rating

12+

Frequent/Intense Cartoon or Fantasy Violence

Copyright

© (c) 2010 Glu Mobile

Price

Free
Supports
Family Sharing

With Family Sharing set up, up to six family members can use this app.