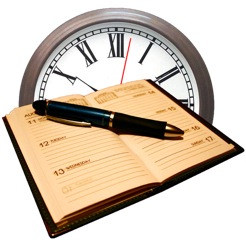 Description
*** THIS IS LEGACY VERSION 2.0.3 for Mac OS X 10.5 -10.9
*** For macOS 10.10 and higher, check out TimeTable 3!

Why not use iCal for more than just scheduling?

You already plan your life with iCal. TimeTable is the easy way to get that information out of your calendar so you can use it with other applications.

TimeTable makes it simple to track and bill for your time without keeping a second record outside of your calendar. You can find trends in your calendars by searching the details of your events and viewing the average, maximum and minimum times you have spent.

TimeTable can export this data to email, text or comma separated values to use the results in other tools like email, invoicing, time tracking or spreadsheet applications.

Events are edited and stored in iCal. TimeTable reads the events directly from the calendars in real time based on the timeframe selected. Since TimeTable only reads iCal data, there is nothing to save or backup. This makes it perfect for tracking and billing without keeping a second record outside of iCal.
Corrected localized rate issue
THIS IS AN AMAZING APP!!!!!
Simple, yes, but i've been looking for something to analize my iCal data for the last 5 years!!! I run a music lesson studio with about 25 teachers and about 150 students a week and we have used iCal since the beginning for scheduling (now using Calendar server 3 on a 2012 Mac mini). Until now, I have been couting every different appointment for each teacher digitally (using my digits - pointer finger on screen!) and it's been horrible and wrought with mistakes. I have searched the App Store many times looking for a solution but have never found it, until now. It's been out since 2011!!! Instead of the monthly billing taking a couple hours, it now takes about 20 minutes.
Thank you for this app!!!

Any chance it could be updated to take advantage of multi processors? It only seems to use 1 of my 8 cores when it's "thinking"...
Simple, and excellent.
Great program! Simple and intuitive, Very valuable. I have been playing with a bunch of time logging programs with the goal of measuring personal productivity. This program allows me to easily keep track of how I am spending my time and even assign a value to that. Simple but priceless. I was able to answer all my questions by just playing around with the program, The result: I can compare one day to another and see how productive I was on any given day. Great self-management feedback, without having to invest hours and hours of figuring out a new complicated software. Thanks for writing this program.
Extremely useful time management / productivity tool
I only use the program a few times a year, but when I do, it does a perfect job. The interface is simple and straightforward. Last night I was able to determine how much time I spend on various work tasks and the data mining was quick and painless. A huge timesaver and helpful business analysis tool.
Information
Seller

Steven Riggs

Size

1.8 MB

Category

Compatibility

OS X 10.5 or later

Languages

English, Dutch, French, German, Swedish

Age Rating

4+

Copyright

Copyright © 2008-2011 Steven Riggs, All Rights Reserved.

Price

Free
Supports
Family Sharing

With Family Sharing set up, up to six family members can use this app.