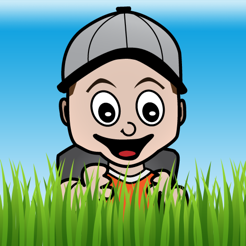 Timmy's Preschool Adventure - Connect the dots, Matching, Coloring and other Fun Educational Games for Toddlers
4+
Description
★ ★ ★ ON SALE 50% OFF FOR A LIMITED TIME ★ ★ ★
Help Timmy get to school and have fun developing your child's fundamentals. Created in partnership with a teacher, Timmy's Preschool Adventure focuses on the basic skills for your preschooler: Matching, Patterns, Counting, Numbers, Letters, Colors and more. Win stickers along the way to place in your virtual sticker book. Then once you reach school, participate in the day's activity.

~~~~~~~~~~~~~~~~~~
25 different mini-games to practice basic skills
(5 different styles of challenges with 5 levels of difficulty each)
~~~~~~~~~~~~~~~~~~

• Connect the Dots - There's a river to cross and the only way is by connecting the dots to form a way over the water.

• Key Match - The fence is locked. Match the right color keys to open the lock and pass through the fence.

• Pattern Bridge - Crossing the river is hard when there are planks missing. Choose the right color plank to fix the bridge and cross over the river.

• Color by Shapes - Timmy's hungry. Match the shapes to paint in the picture and reveal the fruit he needs to give him energy to finish his walk to school.

• Overhead Maze - Help Timmy get through the hedge maze by following patterns, numbers or letters.



~~~~~~~~~~~~~~~~~~
7 school activities to help enrich your child's creativity
(unlock new activities each time you reach the school)
~~~~~~~~~~~~~~~~~~

• Monday: Coloring - use crayons to color in the drawings, or get a blank piece of paper and have fun creating your own masterpiece.

• Tuesday: Bongos - tap on the bongos to play drums along with the optional music.

• Wednesday: Photo frame - paint and decorate your own photo frame, add a photo from your camera roll and save it for emailing later

• Thursday: Xylophone - tap or swipe your finger across the keys to play the notes along with the optional drum beat of your choice.

• Friday: Stamps - tap a stamp, tap on a color and press it to a sheet of paper with a background from the game.

• Saturday: Apple Picking - Over at the orchard, drag 10 apples to your basket to fill it up.

• Sunday: Echo Cave - Speak into your device and listen to the echo (requires a microphone for use with iPod Touch).


~~~~~~~~~~~~~~~~~~~
 What is the game like? What can I expect?
~~~~~~~~~~~~~~~~~~~

- The game starts outside Timmy's house. Tap on the School sign when you're ready to start.

- Timmy will need to complete 3 challenges on his way to school. Each time you start the game, it will pick up from the level you completed last until you get through all 25, then it starts over at level 1.

- At the end of each challenge, you'll win a special sticker for that level. You can place the sticker anywhere you like on your sticker sheet before going to the next game. There's 50 stickers to win!

- Once Timmy reaches the school, tap on the calendar day to select the activity you'd like to play. If you've already unlocked today's activity, you'll win a key to unlock another activity. Reach the school 7 times to unlock all 7 activities!



~~~~~~~~~~~~~~~~~~~~~
Do you have feedback?
~~~~~~~~~~~~~~~~~~~~~
We love seeing your reviews, but if you have a complaint or feature request, please let us know directly. There's no way for us to write you back if you leave a review. We want to make our games better, what you think is really important to us.

Facebook - http://facebook.com/TantrumApps
Twitter - http://twitter.com/TantrumApps
Direct - http://TantrumApps.com/contact
- Fixed a bug with iPhone Bongo game
- Added a hint for opening additional school days
Ratings and Reviews
Good app
My 4yr old likes this a lot. Once it was downloaded he was determined to unlock every day of the week. Only problem is we can't figure out what Wednesday does. He's quite mad about it. :-). Maybe it's not working properly, but the buttons, stars and letters do nothing on the pictures. Orr than that, good concepts for the preschoolers!
Ok but the bugs yneed to worked out
Very "glitchy" there are screens that you go to that you can't back out of. The child has to go through it or they cant get back to the menu. Even if you exit the game and go back it goes back to the screen they are stuck in. At one point in school. The musics all start playing and they overlap, then when you leave school all of the musics are still playing all at once. In school when they are painting pics the buttons to save to camera roll are on the bottom so every time their little fingers go to change colors and they bump the menu options on the bottom. You should Put all the options on the top of the screen. For 2 dollars its worth it even with the glitches.
Pretty good app.
This app is okay. I think the mazes, patterns, count be numbers, etc are great. Because i work with deaf children I really like the sticker rewards, but I would like to see the sticker pages show all their stickers. Again, since I work with deaf children I am somewhat disappointed by the locked activities. So far they have all been auditory and so, no reward for my kids. :-(.
Information
Seller

Lawrence Ingraham

Size

21.3 MB

Category

Compatibility

Requires iOS 3.1 or later. Compatible with iPhone, iPad, and iPod touch.

Age Rating

4+

Copyright

© Tantrum Apps

Price

$1.99
Supports
Family Sharing

With Family Sharing set up, up to six family members can use this app.