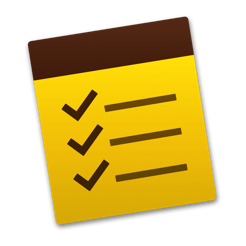 Description
To-do Lists provides simple but powerful interface for tasks management.

To-do Lists features:
- Quick, one-click tasks addition/removal.
- Rich-text editing, in-text links support.
- Seamless iCloud Reminders synchronization.
- DropBox synchronization between computers and To-do Lists Mobile for iOS
- Import/export of to-do lists via text files.
- Printing of to-do lists or mailing them directly from the application.
- Backup and restore of whole to-do database.
- Full drag'n'drop support (make new to-do from web link, file, document, e-mail, or any other text by simply dropping them on to-do list).
- System services support (make new to-do from any text in any application).
- Rolled-up, translucent or floating to-do lists.
- Customized background color, text color, font and checkbox appearance.
- Reminders.
- Quick-access icon in system menu.

To-do Lists usage video:
http://youtu.be/5KB-4sYcelo (or http://youtube.com/AntlogicCompany )

For more information, visit our site at http://www.antlogic.com/
or Facebook page:
http://facebook.com/AntlogicCompany

If you have any problems or questions using To-do Lists - visit our support forums at http://www.antlogic.com/forum/
fixed accidentally broken compatibility for Mac OS 10.6-10.7
Ratings and Reviews
Louise Mailloux-McBurnett
,
Exactly what you need - nothing you don't
We have tried many To Do apps over the years. Including ones I have paid $50 for, some that were just for me and others were company wide solutions with task assignment. They all failed . They were good too, but fundamentally what we needed is something easy to use that is constantly available and easy to access. To me it is the FLOATING aspect that was most important, plus how easy to use it is. It has just the right features - what I need, nothing I don't. I've since turned on my boss and CEO to this app as well, and after the latest exec meeting where I presented my screen and had it in the corner several others on my team have requested it too!

The only add I would make is the ability to turn an email into a To Do from my mail app - that feature may be there but it isn't terribly obvious if it is. I liked that in my other app I had a shortcut that would do that.
Very good organizer across 3 devices
I have To-Do Lists on all 3 of my devices: iPhone, iPad, and MacBook. I use it primarily on my phone and computer. The latter is easier to edit items and the former is in my hands most of the day. One, I love that I have a portable, editable list of to do items - it's helps me keep organized and on top of things. Two, I love the fact that I can make up different lists for different needs and tasks. Three, I love the simplicity and ease of use of To-Do Lists. Four, I love the ability to use it on 3 different devices and synchronize across all 3. I highly recommend this app and use it every day in my work as a sales manager.

Things that I would like to see changed that would make this an excellent app: better synchronization, better editing features, and greater stability. For now, if the computer is on, the computer version overwrites any edits made on the other devices and handheld work tends to get lost. Better text editing tools would also help: bold, underline, text colors. And finally, on the smaller devices better stability: I have had the app quit a number of times while in the middle of adding items and subsequently lost those new items.
Call me simple
Yep, call me simple, but a checklist is just what I need. A few words and a box to mark it done. If you need an app that does lists, doubles as a rocket launcher, and makes you lattes, don't bother with this one. The extras this app does have are good since I use a special font designed for displexics, and list "page" colors allow me to know at a glance which one is about what. The fact that the done items drop to the bottom and grey out is nice. My daily list is light grey and I use different type sizes to designate something that suddenly gets more important. Yellow is my working list like grocery shopping. You get the idea. I'm probably missing some of the functionality but I'm just a simple gal who needs a checklist.
Information
Seller

Mykola Olshevskyi

Size

2.1 MB

Category

Compatibility

OS X 10.6.6 or later, 64-bit processor

Languages

English, French, German, Russian, Ukrainian

Age Rating

Rated 4+

Copyright

© Antlogic, 2011-2015

Price

$4.99
Supports
Family Sharing

With Family Sharing set up, up to six family members can use this app.