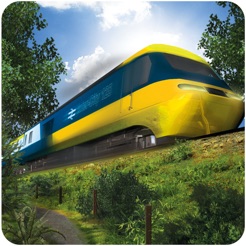 Description
Build and operate the railroad of your dreams, and take charge of a huge variety of trains from around the world.

***** Also check out our newest version: Trainz Simulator 2! ****

Trainz Simulator Mac includes everything you need to build and operate your own dream railroad. You can build a fun layout in minutes, faithfully recreate a steam railroad from days gone by or develop a fully fledged 100+ mile prototypical route; the choice is yours.

Drive... Steam, Diesel or Electric trains (and even trams, boats and cars)
Operate... a complete working rail line with interactive industries
Build... and customize your own living railroad
Share... your creations and your passion with other rail fans

SpeedTree©
High Quality and detailed trees breathe new life into your routes and bring your worlds to life.

New and Upgraded Routes
Included in the TS Mac Release will be several new routes for you to explore as well as improvements to routes you're all used to. These include:

ECML Doncaster Peterborough
Milwaukee Road Avery Drexel
ECML Doncaster Cleethorpes Hull
CN Holly Subdivision
Conrail Lincoln Secondary
CSX Saginaw Subdivision
Detroit Connecting Railroad
Harbor Master
Port Ogden and Northern

Tutorial Sessions
Not sure where to start with TS Mac? Then check out the new tutorials included for you to drive and learn. Tutorials will be included covering the following lessons:

DCC Control
Industries
Junctions
Signaling
CAB Control of Diesel, Electric and Steam Trains
Passenger Stations
And More...

Customizable Menu System
The Trainz interface is a friendly and intuitive interface to find your way around. Along with usability, content creators can also create their own menu items for their routes and sessions.

Routes
New routes are available for you to drive with upgraded content specific to TS Mac and including SpeedTree® throughout. Developed specifically to run in 'Native' mode, experience the best Trainz® ever.

Seasonal Asset Support
Switch between different seasons and observe as the compatible objects change appearance.

Layer Support in Surveyor
Introducing a Layer tool similar to that found in many common graphics applications, you have the ability to perform tasks like;

Assign Objects to Layers
Hide and Lock Layers
Move Layers between Sessions and Routes enabling you to add any object to a session - not just trains. Want to include some new building types in a session? Or maybe a new section of track? Use the layer tool to achieve this.

All Modules Included
Use all three of the Trainz® game modules - Driver, Surveyor and Railyard.


Recommended Specifications:
* nVidia or ATI graphics card required.
* RAM: 2GB required (4GB ideal)
* CPU: Intel Core 2 Duo or better (Core i5 or i7 ideal)
Ratings and Reviews
Good but sure to be better at the next release
The basics are very nice -- but it has clearly been imported from other platforms and there are some missing features and significant annoyances. The graphics are good and are adjustable so that if you have an older chip you can sacrifice some of the detail to get a smoothly running experience. There are plenty of routes and trains and lots of nice scenery. You can choose between basic stop-and-go controls and much more detailed ones with multiple brake systems and so on. For my money the biggest lacks were that I could not manage to save a route, so that where I was not able to stay with the game long nough to do the entire route I had to start over from the beginning. There is a save command but it did not work, at least for me. The help system is also inoperative which can leave you [retty frustrated. I am assuming that there will be a second releast straightening this stuff out. I hope I am not assuming too much.
Impressed
Started Tutorial #1 ~ was 'knocked' out with the program. It suggested to 'drive' the train. Gave simple instructions. I immediately grabbed the contols with my cursor and off I went. Spotted a couple of cars sitting on a spur and headed for them. Switched tracks with ease. Backed up to them ~ coupled ~ pulled slowly forward, and off I went. 14mph past a few buildings, over a bridge, past the yard, and out to the open track. Watching the speed limit carefully I pulled out to the main line. Once I transfered to the main line the speed limit changed to 65mph. I slowly rolled more power forward, blew my horn, and off I went. Just outstanding. At least for me, who is a novice. :-) Time will tell if I still have such a happy experience as I did this first session. NOTE: Yes! Download takes a while. But after seeing what the program can do . . . it make sense. Patience.
Good, Hard to add DLC
I generally found this game to be extremely enjoyable, giving you thousands of different consist possibilities and letting you play and experiment with each engine and train car. There are a few problems, however. The first is a lack of diversity when it comes to steam engines. In the base version of the game without DLC, you only have so many selections for steam engines, especially if you're making an american steam route. I would use DLC to get more steam power, but adding DLC is sometimes frustrating. I wish that you could just download a free update to get new consists and routes, but instead you have to go to Auran's website and create an account, which can take a little long. It also reqiures you to give your game's serial number, which can take a while to figure out. Overall a good game with great mechanics, but has a flawed DLC system.
Information
Seller

N3V Games Pty Ltd

Size

6.8 GB

Category

Compatibility

OS X 10.6.6 or later

Age Rating

Rated 4+

Copyright

© N3V Games PTY LTD

Price

$24.99
Supports
Family Sharing

With Family Sharing set up, up to six family members can use this app.