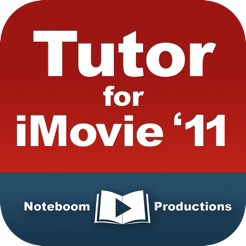 Description
PLEASE NOTE: This is for the previous version of iMovie (version 9) on a Mac and not for the version released in October of 2013 (version 10). If you are looking for a tutorial on the latest iMovie (version 10), search for Tutor for iMovie in the App Store.

***** "Brilliant…exactly what iMovie Needed! For the cost this is superb."
***** "Just what I needed for iMovie. A super tutorial and now I enjoy working with iMovie."
***** "A MUST have app! What a GREAT tutorial app!"
***** "Wow this is awesome!! I love it! You guys made my day!"
***** "I love this App!!! This app has helped me become very creative."
***** "Excellent Tutorial. I highly recommend it."

With this video tutorial get the most out of iMovie '11! This Mac app includes 37 how-to videos on iMovie '11 which is included with the latest version of iLife (iLife '11). The videos cover everything from the interface to importing your movies to using precision editing to assigning keywords to sharing with Facebook. Everything you need to create your next greatest hit with iMovie '11!

Find out how to:
- import your movies from your camera and desktop.
- works with events and projects
- apply the Ken Burns effect to photos and to your movie clips.
- split and merge events.
- assign keywords to your clips.
- favor and reject clips.
- hide your movies that you don't want to show but you also don't want to delete.
- edit your movies with enhance, contrast, brightness and more.
- stabilize your clips.
- use audio ducking.
- create titles.
- add a map to your project.
- add picture in picture or side by side effects.
- add a voiceover to your project.
- share your project using the media browser.
- save space.
- analyze your clips for people.
- create trailers.
- do more with iMovie '11!

Videos included:
- Introduction
- Sample Movie built with iMovie '11
- Sample Movie Up Close
- Interface
- Projects
- Events
- Adding Music and Sound Effects
- Adding Photos
- Creating Titles
- Working with Transitions
- Working with Maps
- Importing your Movies
- Swapping Events and Projects
- Themes
- Adding Clips to your Project
- Advanced Tools
- Clip Trimmer
- Precision Editing
- Using the Ken Burns Effect
- Favoring and Rejecting Clips
- Stabilizing your Clips
- Using Keywords
- Audio Options
- Audio Ducking
- Video Effects
- Brightness, Contrast, and Saturation
- Special Effects
- Picture in Picture and Side by Side
- Analyzing People and Storyboarding
- Trailers
- Beat Markers and Snap to Beats
- Sharing and using the Media Browser
- Saving Space with Spacesaver
- Consolidate your Media
- Make a Movie in less than 5 minutes!
- Conclusion

We have been doing online video tutorials for over 5 years. Check out what people are saying about our video tutorials:

Please note that the app is large and depending on your internet connection, it may take a while to download. But it is worth it. ;-)

- "If he keeps putting out more tutorials for programs I use, I will be sure to get these as well. I downloaded his Tutorial For iMovie for iPhone as well, which I also got a lot out of. "

- "Having this app is like having a virtual instructor. All the fundamental are covered."

Get the most out of iMovie '11 with this Video Tutorial!
- Changed the name to reflect the version of iMovie the tutorial covers.
Ratings and Reviews
Decent tutorial, but potentially confusing for some
This collection of videos covers the interface and all the tools, but could use some polish. I've taught total novices how to use many different apps over the years, and I know how vital it is to make a clean presentation. For example, the narrator for these tutorials fails to mention that merely passing the cursor over a clip will "scrub" the video. Most media players will scrub with a click-and-drag along the timeline. If one clicks-and-drags in iMovie, one will select a segment of the video. I know this omission is significant because novices always click, pull, hit Return and do all kinds of things without being told. "Did I tell you to double-click that? I said 'select that with one click.'"

Another example is the detour the narrator takes while showcasing the vertical and horizontal modes of the timeline. He gets into this whole "paragraph" analogy that is irrelevant and confusing. The "folded," vertical mode has nothing to do with the logical partitioning of paragraphs in writing.

Again, not a bad tutorial (I gave it four stars). But it is potentially confusing to the complete novice, many of whom hang on every word when tackling "complicated" apps, such as iMovie.
Great product
I never tried editing any of the short .mov files I'd made over the years and wanted to arrange some for a gift. I fired up iMovie for the very first time and after a few hours I still had no idea of what I was doing and had no results. After spending some time with "Tutor" I was able to construct a short video in less than an hour. No Spielberg mind you but my family loved it.
Good but not needed...
Ok, so i already had iVideo '11 for a couple of days before i purchased this tutorial, and I have to say, it didn't blew me off the way I thought it would. I thought I barely scratched the surface of the program, and I wanted to see more but... Most of the things (like 75-80%) the narrator said through the video, you can figure out yourself just by trial and error (also holding the mouse cursor over the buttons until the pop-up window appears showing you what is it for, furthermore the program is user-frinedly and logical so you'll pick it up quick). There were only couple of things in the tutorial I didn't know which I believe I would figure out if spent a little more time on it.

Anyway, it's a good tutorial for people who are lazy and would rather spend 5$ then exploring it them selfs, which is for me far better then any tutorial.
Information
Seller

Noteboom Productions, Ltd.

Size

1.4 GB

Category

Compatibility

OS X 10.6 or later

Age Rating

Rated 4+

Copyright

© 2013 Noteboom Productions

Price

$4.99
Supports
Family Sharing

With Family Sharing set up, up to six family members can use this app.