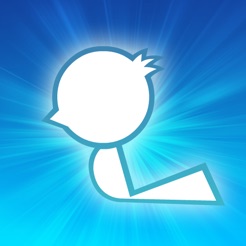 TwitBird free for Twitter
4+
Description
Twitbird is a super-fast Twitter client loaded with unique features that's a joy to use on iPhone, iPod Touch, and iPad. It includes many of the cool features that you've seen separately in other Twitter clients but rarely together. From timeline to map search and four beautiful themes, Twitbird offers advanced Twitter functionality beyond your expectations. And with its logical and intuitive interface, our users love being able to use all of Twitbird's capabilities right away.

Features:

★ Support for multiple accounts (up to 16 in the Pro version)
★ Landscape support throughout for quick tweeting
★ Save links for reading later with Instapaper or Readitlater, or within Twitbird
★ Tweet video, your voice, or what you're listening to
★ Four gorgeous themes, including custom background image support
★ Inline photo previews
★ Built-in address book and support for Official Lists
★ Geotag your tweets to share your location
★ Support for multiple accounts (up to 16 in the Pro version)
★ Advanced nearby tweet searching with maps
★ Push capability to notify you of mentions and DM's
★ Regular updates adding exciting new features at users' request

Twitbird comes in three exciting flavors:

★ Twitbird Free: ad-supported, maximum of two accounts
★ Twitbird Premium: totally ad-free, maximum of two accounts
★ Twitbird Pro: totally ad-free, maximum of 16 accounts

See what others are saying about Twitbird in the App Store or on Twitter: @twitbird. For news, support or to submit feedback, send email to service@nibirutech.comTwitbird is a super-fast Twitter client loaded with unique features that's a joy to use on iPhone, iPod Touch, and iPad. It includes many of the cool features that you've seen separately in other Twitter clients but rarely together. From timeline to map search and four beautiful themes, Twitbird offers advanced Twitter functionality beyond your expectations. And with its logical and intuitive interface, our users love being able to use all of Twitbird's capabilities right away.

Features:

★ Support for multiple accounts (up to 16 in the Pro version)
★ Landscape support throughout for quick tweeting
★ Save links for reading later with Instapaper or Readitlater, or within Twitbird
★ Tweet video, your voice, or what you're listening to
★ Four gorgeous themes, including custom background image support
★ Inline photo previews
★ Built-in address book and support for Official Lists
★ Geotag your tweets to share your location
★ Support for multiple accounts (up to 16 in the Pro version)
★ Advanced nearby tweet searching with maps
★ Push capability to notify you of mentions and DM's
★ Regular updates adding exciting new features at users' request

Twitbird comes in three exciting flavors:

★ Twitbird Free: ad-supported, maximum of two accounts
★ Twitbird Premium: totally ad-free, maximum of two accounts
★ Twitbird Pro: totally ad-free, maximum of 16 accounts

See what others are saying about Twitbird in the App Store or on Twitter: @twitbird. For news, support or to submit feedback, send email to service@nibirutech.com
Add text field to input PIN code for ipad
Ratings and Reviews
was good, now experiencing problems
I've used this app for a long time and loved it but just recently I've started having problems with it. the one that really bothers me is I can't instantly view pictures anymore when I view a tweet, you have to click on the pic link and wait for it to load. also, when viewing someone's profile it always says "twitter server busy." please fix these issues!! especially the picture one, I don't want to have to switch to a new twitter client.
Crashes but has great features
This would be my favorite twitter app if only it was reliable, but it crashes daily, often when I am commenting on a web site, thus losing my work. Also clicking on links doesn't work 100% of the time, and I have to copy and paste them into safari. Finally, it sometimes forgets which tweets I have read, and reloads at the top showing my current tweet, not my last read tweet, which might be a day or two ago. If these bugs were fixed it would be the best twitter app but I'm deleting, just too unreliable. Features are great, tho, including map nearby tweets. I'm trying tweetcaster instead.
No longer updates
I've had this app for years and never had any problems with it until last week when it suddenly stopped updating. Nothing seems to work. I uninstalled and reinstalled but it still doesn't work. I have deleted it and going to the official Twitter app. Thanks for the service for years that we've had it. I'm sorry I won't be using it in the future.
Information
Seller

NibiruTech Limited

Size

12.4 MB

Category

Compatibility

Requires iOS 3.0 or later. Compatible with iPhone, iPad, and iPod touch.

Languages

English, Japanese, Korean

Age Rating

Rated 4+

Copyright

© NibiruTech LTD.

Price

Free
Supports
Family Sharing

With Family Sharing set up, up to six family members can use this app.