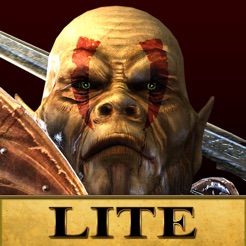 Two Worlds II Castle Defense Lite
12+
Free
Offers In-App Purchases
Description
Two Worlds II Castle Defense is a strategy game set in the high-fantasy universe of Antaloor. Defend imperial commanders by enlisting and managing Emperor Gandohar's imperial forces. Employ a range of units to defend imperial interests, including Swordsmen, Archers, and Priests.

Emperor Gandohar's stronghold at Oswaroth has been threatened by encroaching Orc armies. Take command of your troops and lead them into battle against the enemy horde! Unraveling events will lead you on the search for Maliel's Thrones, ancient artifacts sought after by Emperor Gandohar in his endless, ever-darkening quest for power.

LITE VERSION
==============
- Use the Hero's special abilities
- 6 Unique Playable Units, Each Upgradable to 8 Levels
- 35 Different Enemy Units, 9 Distinct Classes
- Advanced Unit Management Including Stealth and Teleportation
- Supports up to 50 Units Simultaneously On-Screen
- HD Character Models
- Rich 3D Environments
- Rejoin Beloved Characters and Locations From Two Worlds II
- Remastered Musical Score From Two Worlds II

TECHNICAL FEATURES
===================
- Dynamic Character Shadows
- Full Day and Night Cycle
- Fullscreen 4x anti-aliasing on the iPhone
- Up to 50 Units Simultaneously On-Screen
- HD Character Models
- Rich 3D Environments with static lighting
- Advanced particle system
- Environment effects such as fog, desert storm and heavenly rays

FULL VERSION
==============
- Campaign Locations Include Desert Ruins, Forest Camp, Cemetery
- Arena Challenges Allowing 5-10 Minute Skirmishes
- Storyline Foreshadowing Gandohar's Rise and the Events of Two Worlds II
- 2 Playable Characters Each With Unique Special Abilities
- 6 Playable Units Each Upgradable to 8 Levels
- 98 Different Enemy Units and 30 Distinct Classes
- Advanced Unit Management Including Stealth and Teleportation
- Rejoin Beloved Characters and Locations From Two Worlds II
- Remastered Musical Score From Two Worlds II
- OpenFeint with leaderboards and achievements

======================
VISIT: http://www.twoworlds2.com/cd
FOLLOW: http://twitter.com/#!/Reality_Pump
LIKE: http://www.facebook.com/#!/pages/Two-Worlds-II-Castle-
Defense/118209048251454
WATCH: http://www.youtube.com/user/RealityPump?feature=mhum
In-App Purchasing functionality!
Choose and buy only the levels you want to play!
Game Center integration
Screen rotation
Retina display support
Difficulty settings
Ratings and Reviews
Last boss glitch!?
i wonder is it boss HP correct or what! near 350kHP with tons of other zombies and bunch of healers on his side!
it only end with dead & destruction!
Too Hard!
I would probably buy the full version if I could get by the first level.
Back to the drawing board, guys
Another game with great potential, but wasted. Should have been beta tested, since it gets real hard real fast, and no way would testers have enjoyed it in its current state. Challenging is one thing. 0 to 60 in one level is unacceptable. There's no way I am buying the $10 full version, even if the devs do improve the difficulty level, especially based on the terrible reviews it's getting. Improve the playability, then reduce the cost significantly, like to $2-3, and I may consider paying for it. It should have been much better, based on the popularity of its sister RPG game on PC, but still needs major testing and tweaking if it's going to even compete with the other, much better castle/ tower defense games available for less: Legendary Wars, Plants vs. Zombies, Dark Lords, The Wars, Save Sylva, The Creeps, Warlords, Dictator Defense, Army of Darkness, I could go on. I should have been able to add Two Worlds to that list, but apparently the devs were in too much of a hurry to create a quality product, and instead made a pretty one with great potential but no real depth or fun. Back to the drawing board guys.
Information
Seller

TopWare Interactive AG

Size

84.5 MB

Category

Compatibility

Requires iOS 3.2 or later. Compatible with iPhone, iPad, and iPod touch.

Age Rating

Rated 12+ for the following:

Infrequent/Mild Mature/Suggestive Themes

Infrequent/Mild Realistic Violence

Frequent/Intense Cartoon or Fantasy Violence

Infrequent/Mild Horror/Fear Themes

Copyright

© 2011 Zuxxez Entertainment AG

Price

Free

In-App Purchases

Forest Camp

$0.99

Desert Ruins

$0.99

Catacombs

$0.99
Supports
Family Sharing

With Family Sharing set up, up to six family members can use this app.