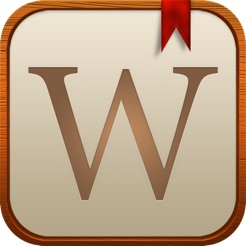 Wikibot — A Wikipedia Articles Reader
9+
Description
Offline version also available. Search for Wiki Offline.
Wikibot makes reading Wikipedia articles a joy on your Mac!

Whether you want to learn more about the places around you, entertain yourself with random articles, or research your favorite TV show, Wikibot has you covered! With a beautifully crafted interface, customizable display options, and killer features like tabbed browsing, language switching, a read-later queue and offline caching, you'll simply love it!

#1 Mac Reference App (US)

SYNC WITH YOUR iOS DEVICES
Using the new iCloud syncing features, you can access your read later queue, folders, bookmarks, and history across all of your devices! iOS App sold separately on the iTunes App Store.

PERSONALIZATION
The display is customizable to give you the best reading experience. You can easily change the font size, the font type, the margins, and the color scheme.

MULTI-LANGUAGE SUPPORT:
Easily search Wikipedia in 36 different languages. Effortlessly jump from the English version of an article to the German version, or any other combination!

BOOKMARKS AND FOLDERS
Save your favorite articles as bookmarks. Come back to them whenever you want, immediately!

READ-IT-LATER QUEUE
Sometimes you're reading an article and find great links that you want to read, but you don't to interrupt your current article. What do you do? Simply right click on the link to add it to your Read-It-Later queue. The article will be downloaded in the background for immediate access when you're ready.

IN-ARTICLE SEARCH
Use the normal keyboard shortcut (command + F) to search inside of articles!

OFFLINE CACHING
Articles and images are cached for offline use until you delete them. Enjoy Wikipedia while you're on the plane, on a train, or in a submarine!

FULLY OFFLINE VERSION
If you need offline access to the complete Wikipedia corpus on your iOS device or Mac, please search for "Wiki Offline" on the App Store, also by Avocado Hills. It is temporarily on sale to celebrate the Wikibot launch!

iOS VERSION:
Look for Wikibot on iPhone, iPad, and iPod Touch as well!

SUPPORT:
Don't be afraid to get in touch with us. User input is greatly appreciated -- in fact, most new features are suggested by users like yourself!
- Fixes for scrolling on OSX Mavericks
- Fixes for new Wikipedia article format
- Fixes for table of contents
Ratings and Reviews
Breaks often, but developers are committed
Wikibot is a fantastic app, however, the wikipedia site changes constatnly, resulting in frequent breakages of the app. However, when something goes wrong the developers have reliably patched the incompatibility within a few weeks time. The app itself is great, presenting wikipedia in a beautiful, straightfowrad manner, that makes wikipedia feel more like a living, breathing encyclopedia than a website. There's added functionality too- the sidebar adds a read later feature, as well as pulling the contents table out of the article and into it's own space, drastically reducing clutter. Wikibot is a great app- but through no fault of the developers, there will be a few bumps down the road as wikipedia makes drastic changes to it's site with no warning from time to time. However, for someone looking for an app that puts the content from the world's largest information source front and center, there's no competition- just be prepared to ride that trolley straight down the line.
Mediocre, but I can't find a better option
I got this program because I had too many Wikipedia tabs continually cluttering up my web browsers. Offloading these into a separate Wikipedia-reading program has been quite helpful.

As the name suggests, Wikibot is a Wikipedia reader. Don't expect functionality beyond viewing Wikipedia articles, although, as the feature list indicates, Wikibot does this in some fancy ways. I haven't found a similar application that comes close to Wikibot on OS X. (I've also tried Wikipanion Plus and Articles for the iPad, and there I think Wikipanion Plus has the edge over Wikibot.) However, images are broken under Yosemite, and there is no way to export your bookmarks. This became a problem when I switched computers; I wanted to set up the new one manually to avoid the accumulated cruft that dominated my old drive, and I couldn't even locate the Wikibot bookmarks file. I wound up re-bookmarking everything manually.

Worringly, this application seems to have been abandoned by its developers. The company website link and the "reader support" link from the app store are both broken, the Avocado Hills Twitter feed hasn't posted anything since May 2013, the program itself hasn't seen an update in over a year, and Wikibot 2 is only available for the iPhone and iPad.
Works alright, but needs an update
This is competent dedicated Wikipedia app that's great for storing a collection of your favorite articles. The sidebar navigation makes it easy to jump to whatever you want. But the best thing about this program is that it syncs with the iPhone app (I believe there's no other Mac Wikipedia app that does this), and the iPhone app has been left looking very outdated for quite some time. Other developers - like Robert Chin, who works on Wikipanion - continue to update their apps regularly, while this one and its iPhone companion have generally sat on the sidelines since their initial release. I hope the developers jump back in to giving this app the attention it deserves.
Information
Seller

Avocado Hills, Inc.

Size

2.8 MB

Category

Compatibility

OS X 10.7 or later, 64-bit processor

Languages

English, Dutch, French, German, Polish, Russian, Simplified Chinese, Spanish, Thai

Age Rating

Rated 9+ for the following:

Infrequent/Mild Mature/Suggestive Themes

Copyright

© 2011 Avocado Hills

Price

$4.99
Supports
Family Sharing

With Family Sharing set up, up to six family members can use this app.