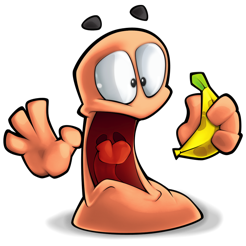 Worms Revolution - Deluxe Edition
9+
Description
***Special Sale Price!***

4.5/5 - "Worms: Revolution is a fun run, and worth a download from anyone who ever has, or ever expected to, enjoy a Worms title", GameZebo

4/5 – "Worms Revolution is the perfect balance between the good old Worms formula, and current modern day expectations", OneClickMac

8.5/10 - "Great" - "All told, this is a great game", IGN

8/10 - "A winning formula can last for years. Especially with sheep", Games™

8/10 - "Worms Revolution is as good as the franchise has ever been", Destructoid

Worms™ Revolution - Deluxe Edition is the latest game in the classic turn-based strategy series to come to the Mac, featuring exciting new features and beautiful 3D graphics whilst retaining the classic 2D gameplay that fans love. Choose to play the extensive single player mode which features both campaign and puzzle missions or dive straight into multiplayer warfare via online or local play. For the first time ever see the inclusion of dynamic water, physics objects and worm classes! Customise your experience by choosing what classes you play with, what they look like and even how they speak!

Key Features

• Class Acts! Choose from 4 different classes: Soldier, Scout, Scientist and Heavy. Players can unlock a total of 32 worms (8 of each class) to form their teams. It's possible to take any combination of classes into a match.

• Customize Your Worms! Customize your worms using a variety of hats, glasses, moustaches, gravestones, victory dances, soundbanks, and for the first time ever, trinkets!

• Extensive Single Player Mode. Battle your way through 52 single player campaign missions. Fancy exercising your brain as well as your brawn? There are 25 puzzle missions waiting for you!

• Includes a Level Editor. Create new environments for your worms to battle in and destroy.

• Stunning New Landscapes. Fight to the death across seven unique environments: Beach, Sewer, Farmyard, Spooky, Funfair, Mars and Medieval

• Multiplayer Battles! Experience local or online battles with up to 4 players. Choose from 3 different game modes: Deathmatch, Forts or Classic mode.

• Dynamic Water. Dynamic water features in an array of new weapons and utilities and it can also appear already on the landscape in matches.

• Exploding Physics Objects! Physics objects are destructible items that possess devastating effects as some have different properties when they explode. Watch out as they release fire, poison and water!

• New Weapons. Wash those worms away using the new water weapons: Water Bomb, Water Pistol and Water Strike. Dynamic water can be drained away with the addition of the new Plug Hole utility. There's also Stick Up, which is used to steal from your opponent's inventory and the Wrench, which can repair damaged Sentry Guns and physics objects. Add Buffalo, Poison Gun, Lightning Strike, the Crate Strike utility, Armageddon, Skunk, Napalm Strike and the brand new Knock Out weapon to the list too!

• Hilarious Script and Voice Over Talent. Worms™ Revolution brings together two comedy legends, who between them bring alive the humorous world of Worms. Multi-BAFTA award winning writer Dean Wilkinson provides the script, which is hilariously brought to life by the accomplished Matt Berry as the unseen narrator of the game, Don Keystone, a wildlife documentary maker.

• Supports AirPlay via Apple TV

• Supports Game Center.

• Supports iCloud save game facility for OSX 10.7.5 or above.

IMPORTANT

• Only systems running OS X Mountain Lion (10.8) or above can utilize Game Center features (achievements and leaderboards) and online multiplayer modes. Systems running an OS X pre Mountain Lion (10.8) will not be able to utilize Game Center features and will only be able to access single player and local multiplayer modes only.

• Minimum System Requirements: Processor: 1.7GHz, RAM: 2GB, Graphics: 256MB, Free Space: 2.5GB.
- Fixed compatibility issue with some wireless keyboards and mice.
The enter screen glitch
The game was working perfectly fine, then I decided to play the "online mode," but to do that I had to sign in to GameCenter. As soon as I did this, I couldn't start the game due to the fact that I couldn't press the Enter button. I hope this issue/glitch is fixed soon.
Crashes constantly
Using a 2012 mac-mini, logitech bluetooth keyboard, and apple magic mouse (both work great). The game is crashing constantly. Purchased explicitly so my fiancee and I could play together, and at the versus screen when setting up the game, if you add another player you are suddenly unable to press "start." In fact, you can't do anything (change player settings, press start, press back, etc). The only way to get out of the "pressing any key makes a beep but doesn't move the game anywhere" is to go up to the game type pulldown selector and switch to "create custom," let that load, hit escape to go back to the game setup, put in the changes you want, and then you can press start and actually start a game.

Within 30 seconds of starting a versus game the game crashes, it does this on deathmatch, classic, or forts. We have managed to play 1 game so far, out of around 10 tries. It's really sad - I love the worms series, but this feels like no one bothered to QA test it. If you go to team-17's website they don't even offer support under their support section for Worms Revolution on Mac, they only mention support for PC. Very sad state of affairs, and I sort of want a refund. At least the single player seems to work ok.
Great game, Mysterious lack of online players...
So far the game has been exactly what I've been looking for since armegeddon (worms, not the world). The CPU somehow lands the most amazing shots ever and it's a little trickier than the old sprite versions but it's still a fun experience. The main issue I have is the completely invisible online community. I really feel like it might not exist..anyone else get this feeling? It's kinda why I bought the thing. Still, fun game. You should probably buy it while it's cheap and look for me online! I'll blow you up.
Information
Seller

Team17 Software, Limited

Size

1.1 GB

Category

Compatibility

OS X 10.7 or later

Languages

English, French, German, Italian, Spanish

Age Rating

9+

Infrequent/Mild Cartoon or Fantasy Violence

Copyright

© Team17 Digital LTD

Price

$14.99
Supports
Game Center

Challenge friends and check leaderboards and achievements.

Family Sharing

With Family Sharing set up, up to six family members can use this app.