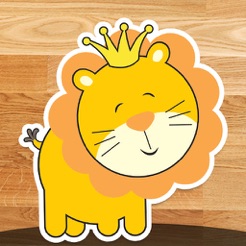 Memory King – The Memory Cards Matching Game
4+
Free
Offers In-App Purchases
Description
★★★★★ "Wow... the best memory game in the App Store bar none and it's free! Our family has always loved playing memory cards and this is by far the best version yet. It's even more fun and addictive than the physical board game, especially given the huge number of cards. The addition of magic cards is also a huge plus! What an awesome twist to a famous classic. Highly recommended."

Endorsed by tens of thousands of satisfied parents, teachers, and kids the world over.

Who is this for?

Memory King is the first and only memory cards game that is truly suitable for people of all ages.

Memory King is a fun exercise for your mind regardless of age. We have send kids, parents, grandparents, and teachers playing the game non stop. Who knew that sharpening your mind could be this addictive?! :-)

About Memory King
♡♡♡♡♡♡♡♡♡♡♡♡♡♡♡♡♡♡

Memory King is by far the most amazing memory cards matching game yet:

✔ Memory King is FREE no strings attached
✔ Up to four players can play at one time
✔ Magic cards make gameplay totally unique and addictive
✔ Create your own memory cards from your photo library
✔ Fully customizable - you can adjust and customize everything imaginable

Features:

♡♡♡♡♡♡♡♡♡♡♡♡♡♡

✔ Select exactly how many pairs to include per game – 2 to 32 pairs supported

✔ Includes over 60 gorgeous memory cards (toys and animals) for FREE

✔ Can upgrade and buy additional memory cards from a collection of 800 beautifully crafted cards - upgrades only cost $0.99 for 200+ cards at a time

✔ Single player mode optimized for learning

✔ Multiplayer mode supports one to four players at a time

✔ Magic cards make this game totally unique. Special effect #1 is called "Total Recall" and if you find this card, you quickly get a glimpse of all the cards that were previously revealed. Special effect #3 is called "Crystal Ball" and for just a second you get to see all of the cards that are left in the game. While we think that magic cards make the game more fun and unpredictable, you can use this button to turn them ON or OFF. Please note that you need to have at least 8 pairs included in the game for the memory cards to appear.

✔ Tracks player stats - find out exactly how each player performed at the end of each game

✔ Customizations enable unique game modes such as "audio only." Hide the visual pictures and play memory cards only by audio to sharpen a completely separate area of your brain.

Customization options:

♡♡♡♡♡♡♡♡♡♡♡♡♡♡

✔ Create your own memory cards using your own pictures

✔ Decide exactly what effects to include in each game

✔ Can use classic (counting pairs only) or enhanced score keeping (which gives bonuses for speed and finding multiple pairs in a row correctly)

✔ Select exactly which memory cards to include in each game

✔ This app is FULLY customizable - you can record everything in your own voice!

✔ Multi-sensory learning tool - combining audio, voice, and written words

✔ Multi-language support. You can update all critical audio files so that you child can play the game regardless of their native language

Heroic Support

♡♡♡♡♡♡♡♡♡♡♡♡♡♡

Heroic Support is not just what we do. It's really what makes us, well, us. It's that drive to make a difference in your life - no matter how big or small. Really, it's our way of life because we want you to be our customer for a lifetime of fun and learning.

support@alligatorapps.com
★★★★★ This app deserves to be in the "To Free" apps section
- Minor bug fixes and improvements
- Incorporated user suggestions and feedback

If you like this app, please support us by quickly rating the app in the App Store. If you have questions, feedback or need help, just shoot us an email at support@alligatorapps.com
Ratings and Reviews
All other Memory apps pale in comparison
My daughter loves memory, and I like it well enough, too. This version has some nice twists in the two special cards, one of which turns over every card in the game suddenly, the other of which turns over every card that has been previously exposed during the game. You can disable those if you like, as, with all Alligator Apps, everything in the game is fully customizable. I haven't played around much at all with customizing it but the options are extensive, including adding your own pictures. I recall that there is even a rather intriguing option to use audio and video together or even turn off the pictures so that you have to remember which word was spoken when each card was turned over. I've downloaded other Memory apps since and deleted them quite quickly because this one makes them all quite blah in comparison.
great memory game
For some reason, I had a hard time finding a basic memory game app. Then I found this one, and it is perfect! I use it with my aunt, who has developmental disabilities, and it is her favorite app. It times your performance, gives a percentage of correct matches, and has customizable cards. There are two drawbacks-the score takes up a lot of the room so the cards are not as big as they could be (which makes it harder for someone with poor coordination to tap), and some of the cards it comes with are similar colors (some animals like the cat and gorilla look very similar to my poor weary brain!) But it is an incredible app, and I'm going to buy some of the extra cards to support the devs cuz this app rocks!
Memory King!
This is a great app. I think that the ability to customize your own cards and sounds is a cool feature! I also love the layout and how polished it looks versus a bunch of other memory apps. For example the background turns the active player's color and the score on the corners are a nice size. I Am giving this 4 stars because when playing on an iPad, there are a few hiccups in the layout, the start screen is small and looks scaled for an iPod and the background is too. The cards also look small with a lot of dead space. Thanks for the nice app that whole family can enjoy! I by all means think this is not a kids only app' teens and adults can enjoy it too!
Information
Seller

Innovative Mobile Apps Ltd

Size

41.3 MB

Category

Compatibility

Requires iOS 4.3 or later. Compatible with iPhone, iPad, and iPod touch.

Age Rating

Rated 4+

Copyright

© Alligator Apps

Price

Free

In-App Purchases

Core Concepts Expansion Pack

$0.99

Animal Cards Expansion Pack

$0.99

First Words Expansion Pack

$0.99
Supports
Family Sharing

With Family Sharing set up, up to six family members can use this app.